Benefits of Aromatherapy and Essential Oils
If we've learned anything over the past year, it's the importance of well-being, both physical and mental. Too often, we bring products into our homes that have ingredients made from synthetic chemicals that do more harm than good. Foster a healthy home with toxin-free and eco-friendly therapeutic essential oils. These natural plant chemical compounds are safe for the whole family and can relieve stress, improve the immune system, and energize the mind. Take a few moments to learn about the benefits of aromatherapy.
What is Aromatherapy?
Aromatherapy is a holistic healing practice that uses natural plant extracts. Also known as essential oil therapy, it involves the inhalation or application of aromatic essential oils. It's been practiced for thousands of years in medical and spiritual applications because it's known to harmonize, balance, and heal the body, mind, and spirit.
Whether you want to invite tranquility into your home or whether you want to treat a specific condition (such as insomnia, depression, or inflammation), your household will be uplifted by the therapeutic power of essential oils.
Aromatherapy Applications
Before we jump into the different types of essential oils, let's explore the ways you can enjoy aromatherapy – whether through inhalation or absorption of aromatherapeutic products through your skin.
Inhalation
One way to experience the effects of aromatherapy is by inhaling the scents from candles, room sprays, or diffusers. Breathing in these scents stimulate the olfactory nerves and send signals to the limbic system in the brain. This part of the brain controls emotional responses, stress, memory, breathing, and hormones. By a simple act of breathing in natural extracts, you'll be on your way to healing your mind and body.
Topical Applications
Another option for aromatherapy is topically applying essential oil products to your skin. As your body absorbs the oils, your nose will also inhale the aromas.
Our favorite way to absorb essential oils topically is through a massage or a bath. A little self-love, especially during this pandemic, does wonders for your mental health. It has so many benefits – from reducing anxiety to relieving tension. Self-care should not be treated as a luxury; it should be a priority. All you need is a few minutes out of your day, essential oil products (such as bath salts or candles), and a quiet place.
Massaging products with essential oils into your skin can soothe sore muscles, relax your mind, lower your heart rate, and alleviate stress. Aromatherapy massages can also help with several specific conditions, such as anxiety, depression, insomnia, and dementia. Bring peace to your mind and uplift your spirit with a self-massage in the comfort of your home.
Another great aromatherapeutic practice is bathing with bath salts. Bathing has several benefits, including releasing tension, reducing anger, preventing stress, and combating depression. If you bathe shortly before bed, your body temperature will rise leading to synchronized circadian rhythms, which enables you to have more restful sleep. While showers are great time-savers in the short term, occasional baths are best for caring for your mental health in the long term because baths are truly transformative.
The Importance of Toxin-Free Products

Over the years, the cases of heart disease, cancer, and Alzheimer's have increasingly risen due to toxins in everyday products. If you're making the decision to practice aromatherapy, check the ingredients list on the products you're using to ensure they're free of synthetic chemicals. When shopping, skip on products with phthalates, parabens, sulfates, and lead. By avoiding toxins, you'll be reducing your risk of diseases and helping preserve the planet.
Benefits of Aromatherapy
As we mentioned before there are several health benefits of aromatherapy. Whether you want to improve your sleep, increase your immunity, or ignite passion, there's a scent or combination of scents to restore your health. Discover the benefits of aromatherapy oils below.
Aromatherapy for Mental Health
Stress is an inescapable part of life. While we can't avoid it, we can manage it. This global pandemic has turned the world upside down, and it's more important than ever to treat ourselves to a little self-love.
If you're feeling stressed, try aromatherapy. Spray essential oils in the air or light a candle and take several deep breaths. Your mind and body will release any stored-up tension and bring you to a place of peace. The best scent to manage and relieve stress is lavender. It lowers your heart rate and calms the nervous system .
In addition to helping you manage stress, aromatherapy can also relieve anxiousness and nervousness. Whether you have an anxiety disorder or whether you're about to head into a job interview, breathe in therapeutic essential oils. The oils will soothe and ground your mind. Some of the best aromatherapeutic scents for anxiousness include lavender and rose.
You can't properly care for your family or friends if you neglect your own mental well-being. Take a few minutes out of your day to meditate to release stress and anxiety. Some of our favorite essential oils for meditation include lavender, rose, and frankincense. Try meditating with our Tranquil Lavender Mint Soy Candle to care for your mental health. The oils in this candle will allow you to be fully present in all that you do.
Aromatherapy for the Immune System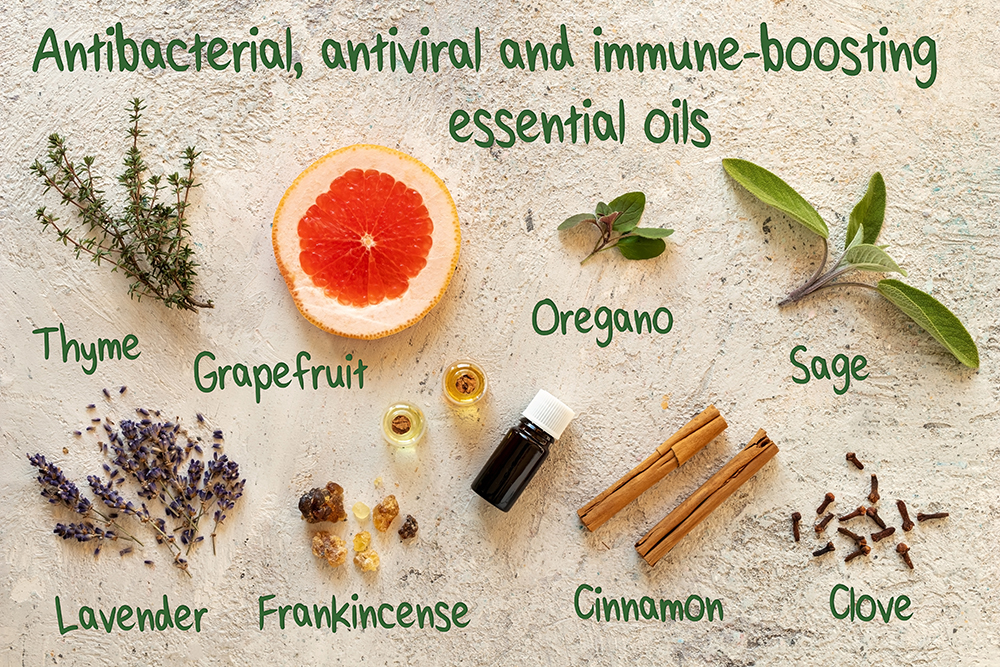 Aromatherapy is not just for mental health. Certain essential oils can also improve your physical health, such as enhancing your immune functions . COVID-19 has us all thinking a lot more about our loved ones' abilities to fight off diseases and viruses. Many natural oils, such as frankincense, have antioxidant, antiseptic, antifungal, and anti-inflammatory properties. Others, such as eucalyptus, can help with decongestion by clearing mucus. If you're feeling nauseous, breathe in ginger oil to stabilize your internal health. Keep your family's immune systems strong with essential oils.
Aromatherapy for Pain
We've all struggled with pain at some point in our lives, and we will likely experience it in the future. Good news is that aromatherapy aids in the management of physical pain , such as menstrual cramps, post-surgery pain, and sore muscles. The chemicals in the essential oils travel through your nose and reach your limbic system, which in turn allows your brain to perceive pain differently. Several essential oils can even reduce inflammation. Some of the best oils for pain include cinnamon, ginger, lavender, and thyme.
Aromatherapy for Sleep
Sleep is so important for positive attitudes, good moods, productivity, and achieving goals and aspirations. The sedative properties in certain oils calm the mind and enable you to drift into a peaceful sleep. Several studies (such as this 2005 study ) have been conducted showing that lavender works great as a natural sleep aid. Spray a therapeutic room spray or apply droplets of oil to the diffuser before bed. Or, massage products with essential oils on your wrists, feet, or arms in the morning and night to promote relaxation. Essential oils for sleep include lavender, chamomile, and ylang ylang.
Aromatherapy for Energy and Focus
Stimulate the brain and improve focus, memory, and mood with essential oils. For more energy throughout your day, instead of reaching for a caffeinated drink, try inhaling citrus essential oils. These oils have antioxidant terpenes, which naturally boost energy. Peppermint can even improve your performance while exercising. Recommended essential oils for energy and focus include lemon, orange, and peppermint.
Aromatherapy for Passion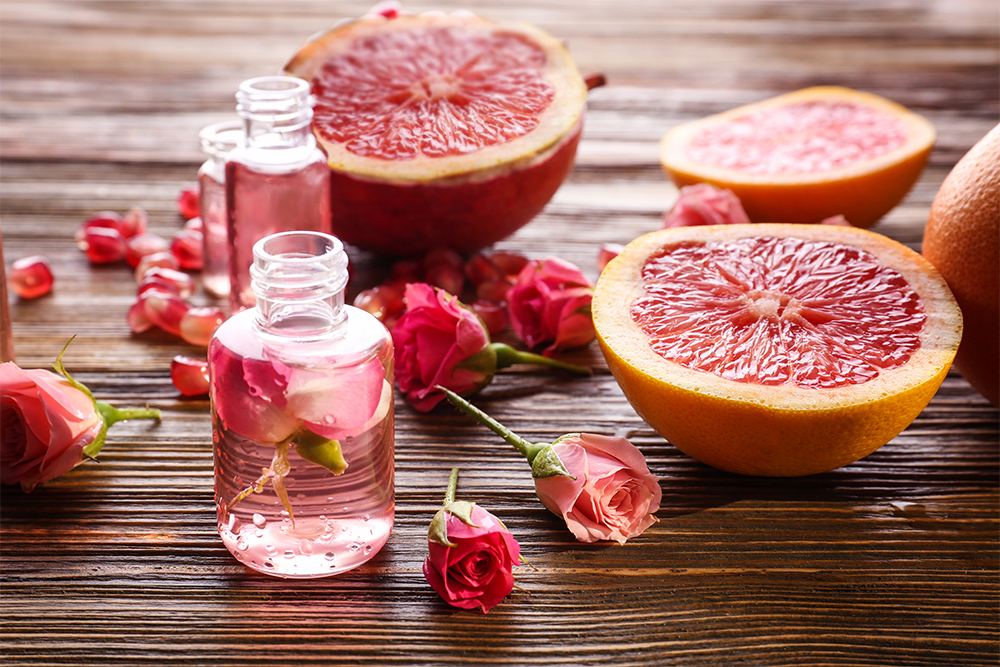 As humans, we're passionate about many things – our family, friends, lovers, jobs, hobbies, goals, and causes. The monotony and stress of everyday life, however, can strip these feelings of passion. Aromatherapy can help you reconnect with your inner spirit by promoting relaxation and energy. Invigorate the senses and excite your passion and sensuality with our Vintage Grapefruit Ginger Soy Candle . If you have a few spare minutes in your day, take a soothing bath with our Red Rose & Grapefruit Bath Salts . It can do wonders in reawakening your love for life.
Aromatherapy for Allergy and Flu Relief
Aromatherapy can soothe symptoms of seasonal allergies, colds, and flu. Scents such as lavender can reduce inflammation and mucous cells for easier breathing. Studies also show that a blend of essential oils (such as frankincense and sandalwood) can unblock nasal passages and improve runny noses. Eucalyptus can help with congestion. For ultimate relief, try our Chamomile & Eucalyptus Room Spray . Other essential oils for allergy and flu relief include lavender and frankincense.
Aromatherapy for Men
It should go without saying that the above benefits of aromatherapy are not just for women; they can be enjoyed by anyone. Many essential oil scents have woodsy, spicy undertones that are enjoyed by men all over the world. Our No. 3 Single Malt Whisky + Aged Oak Soy Candle has notes of whisky, oak, and vanilla to ground and calm your mind. Several other scents, such as peppermint and sandalwood, increase energy, ease stress, and improve sleep. Whether you're a dad balancing work and family, a business owner, or a fitness enthusiast, you can experience the benefits of aromatherapy candles or room sprays.
A List of Essential Oils and Their Benefits
Many essential oils have antibacterial, antiviral, antifungal, and antimicrobial properties, making them great natural healers. Here we've provided a list of some of our favorite essential oil scents. Keep reading to find out how each has its own uses and effects:
Lavender: A popular and versatile scent in aromatherapy, this essential oil has antiseptic, antifungal, anti-inflammatory, antibacterial, detoxifying, and sedative properties. It encourages relaxation and sleep, and it treats headaches. This multi-purpose oil is good for adults and kids with anxiety, insomnia, small cuts and burns, and migraines.
Rose: An essential oil that has several mental health benefits. It's an aromatherapy remedy for stress, anxiety, depression, and sleep issues. It also helps with physical ailments, such as headaches, menstrual cramps, and symptoms of menopause. Rose oil benefits people who are overwhelmed, are having fitful nights of sleep, or are suffering from migraines.
Eucalyptus: An essential oil that calms the symptoms of colds and flu viruses, such as coughing and congestion, and helps respiratory conditions. Additionally, it has soothing effects on joint pain. Eucalyptus can help those who suffer from colds, asthma, or arthritis.
Grapefruit: An essential oil extracted from the peel of a grapefruit through cold-pressing, this oil suppresses the appetite and aids in weight loss, relieves anxiety, stabilizes mood, and reduces stress and lowers blood pressure. The aromatic effects of grapefruit essential oil can be beneficial for people who have an overactive appetite, who want to lose weight in a healthy manner, and who want a natural way to treat their anxiety.
Citronella: An essential oil with antifungal, wound healing, and insect repellant properties. Citronella can help reduce lung and sinus infections, and it may help either relax or stimulate the brain, depending on the person . This essential oil benefits those with weakened immune systems as well as those with conditions that slow wound healing, such as diabetes.
Frankincense: A sweet and woody scented essential oil that eases stress. During aromatherapy, this scent sends messages to the limbic system, which controls emotions and the nervous system. Frankincense levels out blood pressure, breathing, stress, and immune functions. This oil can be a great option for people with anxiety, stress, cold symptoms, and indigestion.
Myrrh: Extracted from a thorny tree, this earth scented essential oil has several health benefits. It kills bacteria found in many airborne, contagious diseases. It also aids in wound healing by killing bacteria and microbes found in several skin conditions. Additionally, it helps relieve pain and inflammation. Myrrh essential oil is perfect for anyone looking for a natural way to prevent illness and heal wounds.
Pine: An essential oil that uplifts and invigorates the mind. It also eases symptoms of the common cold. Pine oil can help anyone who needs an energy boost at work or home.
Vanilla: Eliciting a cozy, warm scent, this essential oil can calm anxiety, relieve digestive issues, aid in healing wounds, and regulate menstrual cycles. Vanilla essential oil's benefits can be enjoyed by adults and kids who are feeling anxious, nervous, or ill.
Peppermint: An essential oil that improves digestion, itching skin, headaches, and nausea. Peppermint can be used by people who have irritable bowel syndrome (IBS) or other GI conditions, irritated skin, and migraines.
Rosemary: An essential oil that is known for improving memory, reducing joint inflammation, and promoting healthy nervous and circulatory systems. It's also great for energizing the mind. Rosemary is perfect for students, older adults with dementia, and anyone with arthritis.
Chamomile: A remedy for several ailments, this essential oil comes from the chamomile plant. It eases digestive issues (such as nausea and gas), promotes restful sleep, and aids in anxiety relief. Chamomile oil provides restoration for those with generalized anxiety disorder (GAD) and depression.
A Little Self-Care with Essential Oils
With so many stressors in our lives, we need to prioritize self-care. Lift your spirits and improve your well-being through the use of essential oils and aromatherapy. Remember to use therapeutic products that are free of harsh chemicals to protect your long-term health and the planet. When you're feeling overwhelmed, tired, or under the weather, light a candle infused with essential oils, bathe with bath salts or receive a relaxing massage using pure essential oils. Another fantastic article about The 8 Benefits of Aromatherapy Massage by Jen Nash also explains the remarkable benefits of essential oils used in massage therapy. It is very important to take care of the self before we take care of others, and that is not being selfish by any means. A few minutes of self-care could mean a lifetime of good health. To transform your aromatherapy practice, shop The Therapist Essentials' toxin-free, handmade candles, room sprays, soaps, and bath salts.
IMPORTANT!
This article by no means can be substituted for physicians care. The reading is for information only and may be used by the reader to complement any healing journeys but may not be used to replace or stop any medical care. Our statements have not been evaluated by the Food and Drug Administration. Our products are not intended to diagnose, treat, cure, or prevent any disease. Individuals that are Pregnant, Nursing or suffering from any illness please consult your physician prior to using any essential oil containing product including ours. Always practice caution when using candles, sprays and oils around children and pets as they may be overwhelming or even toxic for them in even minimal quantities. Never leave candles unattended and always keep them away from draft, curtains or any surfaces that can catch on fire. Always burn candles on heat resistance surface. When using sprays always make sure to spray from a distance to avoid creating potentially slippery surfaces. Same when using our bath salts, since they contain oils please use caution when getting in and out of the bathtub as they may create slippery conditions.